PQWT-L50 Indoor Pipeline Water Leak Detector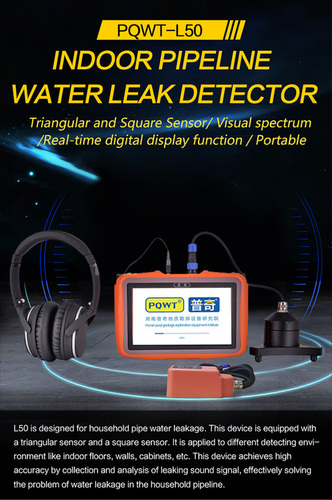 PQWT-L50 Indoor Pipeline Water Leak Detector
Product Description
Water leak detector advantages
1. Visual spectrum for indoorpipeline leaks.
2. Real-time digital display function can also distinguish small difference.
3.Suitable for small spaces such as floors and walls, cabinets, etc.
4. The instrument is light and easy to carry.
5. Free professional technical guidance.
6. Easy to operate, non-professionals learn to operate in five minutes.
Model

Sensor

Frequency Range

Gain

Volume

Operating Mode

Display

Weight

(Host Machine)




PQWT-L50




Triangular Sensor; Square Sensor

1-10000HZ




10 levels adjustable




10 levels adjustable




General Detection;




Locating Mode







7 Inch HD digital touch LCD screen




0.7Kg